How are your mutual funds and ETF performing?
How Are Your Mutual Funds and ETF Performing?


Ten years ago, on March 9, 2009, U.S. stocks reached a low following the great financial crisis.

The current U.S. economic expansion is the 2nd longest on record (116 months) with household net worth reaching new highs. This summer, we should be in the longest expansion ever. But corporate debt is at a all-time high as a percent of GDP. Bond leverage is near peak. A recession is possible in 2020-2021. As a reminder, quantitative easing (QE = unconventional monetary policy that introduced a lot of new money into the money supply by a central bank in order to lower interest rates and stimulate the economy) during 2010-2015 was the largest and most distortionary intervention ever made.


Even though we have seen 6 "corrections" of at least 10% during the last 10 years, the performance (total return) of U.S. stocks (S&P 500) is close to 400% (more than 17% per year).

Investing in a simple U.S. stock passive/index fund or ETF would have quintuple your money!

This is the longest stock market expansion in history but the performance is still below the performance of the stock market during the 1990-2000 expansion. We are happy to have opened BFM in 2009.

Unfortunately, the performance of the next 10 years will be much lower. It will not be as easy to generate positive returns after taxes and inflation.

There are thousands of mutual funds investing in U.S. stocks but many perform poorly compared to indices like the S&P 500, Dow Jones...


Contact Us to Get Your Free BFM Fund Analysis Today!


Here are the 10 best performing funds since March 2009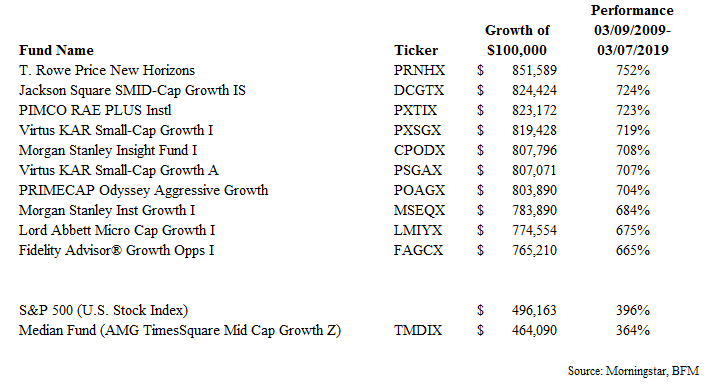 As you can see, while an index like the S&P 500 had close to 400% performance ($100,000 invested became almost $500,000), many U.S. equity funds (about a third) had much better performance.

For example, T. Rowe Price New Horizons returned close to 750% ($100,000 invested became $850,000).

While 10% of the funds had a performance better than 469% ($100,000 invested became more than $569,000), the bottom 10% of the funds had a performance of less than 266% ($100,000 invested became less than $366,000).


Fund selection can make a big difference!



Many clients have asked us how do we select fund managers since most funds underperform index funds / ETF over the long term. While we may recommend investing a portion of a client's portfolio in index funds / ETF, BFM is committed to researching and developing innovative solutions to meet this challenge.

You will discover in this BFM newsletter, how the BFM due diligence process and expertise provide a rigorous and disciplined framework for identifying premier investment managers that we recommend to our clients.


Our disciplined, straightforward approach includes:

- Comprehensive due diligence / research
- Combination of qualitative and quantitative factors
- One-on-One manager interviews (Chicago, New York, Boston, San Francisco, Los Angeles, London, Paris, Geneva…)
Our goal is to select better fund managers that we can trust, to better manage your customized portfolios to help you reach your financial goals.


Contact us if you want more detailed information about how we select fund managers.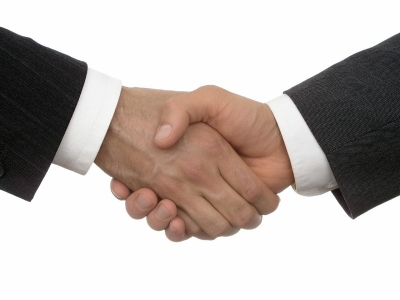 We welcome the opportunity to know you better, introduce ourselves, share with you the work we do for our clients, and position ourselves as a useful resource for you. It will be a wise first step towards achieving your vision.
Getting to know you, your needs and motivations, is almost as important as you evaluating our capabilities to help you meet your financial goals. We do not charge a fee for our initial consultation during which we review your portfolio, and listen to your goals and objectives.
Who are our clients?

Our clients are located across the globe including North America, Europe and Asia. Our broad client base encompasses expatriates, executives, entrepreneurs, working professionals, and business individuals. We welcome all clients from individuals with multi-million dollar portfolios to individuals with little assets. We do not have minimums.
We have discovered that a few of the most valuable things we do for our clients are guiding them on selecting better performing mutual funds and making sure they have enough assets as long as they live.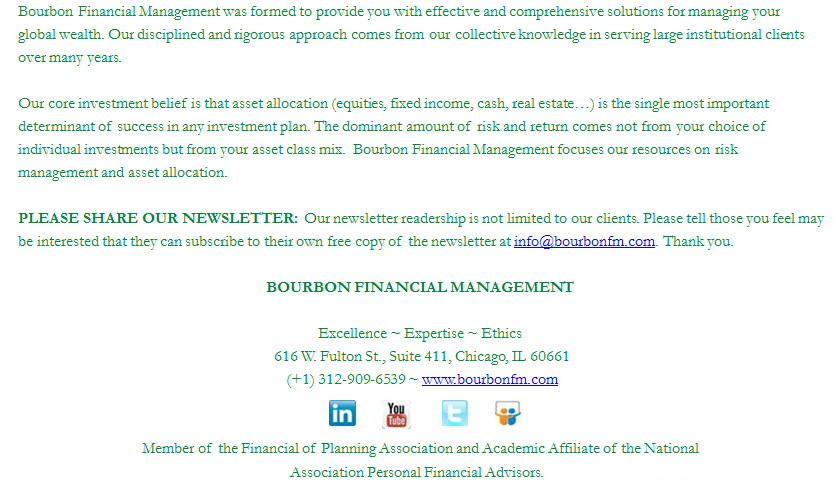 This newsletter was first published in March of 2019
https://mailchi.mp/bourbonfm/how-did-you-do-since-2009-it-is-time-for-a-complimentary-portfolio-check-up-1189573?e=d68f9c2d38